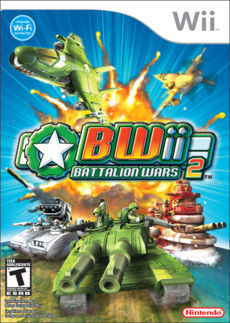 Battalion Wars II is a video game for the Wii that uses the Wii Remote and Nunchuk attachment. Apart from the single payer campaign, it also offered the possibility for online battles with or against other players around the world, in three different game modes. It is a sequel to the sleeper hit GameCube title Battalion Wars. According to VGchartz, BWii, as it is commonly abbreviated, has been more successful than its GameCube companion. A possible reason is because the Wii sold higher numbers than the GameCube, meaning more people were able to play the game, including the multiplayer.
Gameplay
[
]
The game consists of a variety of missions that will have you taking control of a battalion. Only one character or unit can be directly controlled by the player at a time, though you can also command your other units to perform specific actions or simply switch which unit you're directly controlling. The unit you control can be moved by using the joystick on the Nunchuk attachment, while Z will lock target onto an enemy and the b trigger on the Wii Remote will cause your unit to shoot. To choose which target to shoot or target onto, the player must point with the Wii Remote.
While commanding your other units, you can either tell all of your soldiers to attack or perform a certain action, or select a specific type by using the d-pad on the Wii Remote. For example, one type of unit may specialize in performing a certain action, such as burning down barricades. Since having all units attack the barricade will come to no avail, it's appropriate to just select flamethrowers to do the dirty work for you by selecting their icon by using the d-pad. They will then automatically do what they were assigned to do.
Units
[
]
Infantry
[
]
Infantry are basic soldiers who travel on foot. They are lightly armored, not very fast compared to most units, and most of them are relatively weak against vehicles, aerial units, and naval units, although they are the only type of unit that can capture facilities and occupy nests or towers. They're also very maneuverable, and all of them are able to swim for a while.
Ground Units
[
]
Vehicular units are manned units that each have a different advantage and disadvantage against certain units. Vehicles can't traverse some terrain such as hills and woods as well as infantry, and they'll take damage if they stay submerged in water.
Air
[
]
Air units are the fastest of all units, and are able to fly through the air freely, but most of them can't stay still, and have to keep moving.
[

]
Naval units can only travel across seas, but they are effective against certain unit types.
Multiplayer modes
[
]
Multiplayer was introduced in this game, using Nintendo Wi-Fi Connection.